Just to add to what KC said [below], by my count this was be the first VRA picnic since our outing with the M&NJ folks in 2002. Those events on the M&NJ were very popular and I hope we are able to make this outing with Tri-State, the CNJ Veterans Association and the Sussex County Railroad Club a yearly event. The admission is only $5 which defrays the cost of food. We are also asked to bring a desert item (cookies, pie, something simple) to share.
2010 is shaping up to be a great year for railroad preservation. You've all seen the remarkable progress on our own Hawthorne Station. TriState is likewise making real headway with the restoration of their F-3.
As you recall, we ran the 2010 Easter Bunny trains in conjunction with Tri-State. The money we raised together along with a separate donation from the VRA helped fund this meticulous restoration.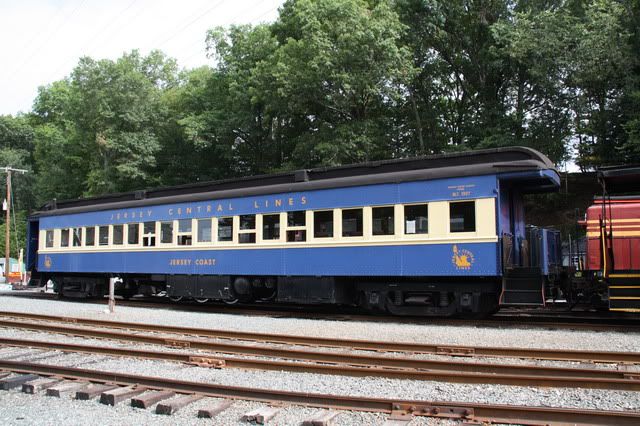 Likewise, the good folks at the Whippany Railway Museum have concluded a long anticipated project – the restoration of CNJ Blue Comet passenger car Jersey Coast. Only yesterday the finishing touches were put on the chairs which were then moved into the car. Here is are two photos from WRM: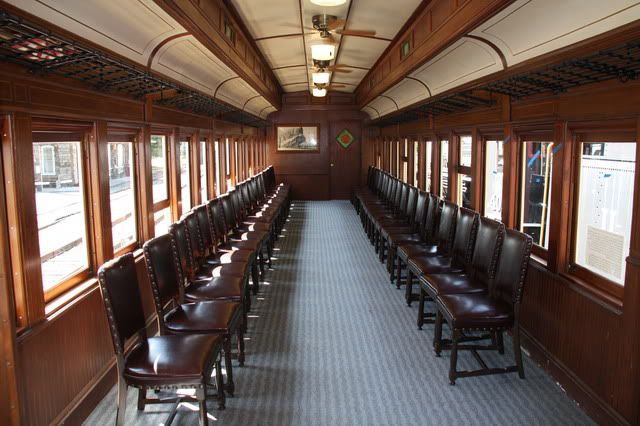 The car will make its public debut on their September 12th caboose hops at the museum. It's not usually open the public during regular museum hours but… if we ask nicely maybe we can get a tour. I make no promises of same but it certainly will be neat just to see the completed car as she now sits at WRM.
In closing, we did initially hope to have a caboose hop train available for us at the picnic. Unfortunately, due to some recent happens at the M&E, they are not able to provide a crew for the day. Maybe in future years we could make that happen. Either way I look forward to seeing many members of the VRA there for an enjoyable afternoon.
Sincerely,
Charles Smith
---
— On Sun, 8/15/10, VRA Inc wrote:
Everyone,
The following announcement was not sent to our editor and so did not make the newsletter but I wanted to make sure you all got it, it is one of those purely fun things we get to do.
On Sunday August 22nd between 11:30am and 4pm you and your families are all invited to a picnic being held on the grounds of the Whippany Railway Museum and the Morristown and Erie Railway on Route 10 in Whippany NJ. This picnic has been run for many years by the Tri-State Chapter NRHS, CNJ Historical Society and others as a way for their members to spend a day out enjoying each other company. This year the VRA has been invited to attend and we were very honored to accept that invitation. All VRA members and their families are invited to attend at a cost of only $5.00 per person.
We need to give the folks organizing the event an estimated count of how many people we expect to come. So if you can make it I ask you to please respond to this e-mail by Wednesday by contacting me directly at volunteerra@yahoo.com and let me know how many people will be joining you. We need to bring our own chairs and tables if you would like. The only work for the day should be volunteering to help set up and breakdown and maybe lend a hand with the food. If you would like to bring something small to eat to share with everyone please do, but don't bring too much so we don't have to many leftovers.
To get to Whippany simply get to Route 10 in Whippany and look for Troy Hills Road and make a U-turn if going East and then look for the museum on your right. If coming West after you pass Try Hills Road start looking for the museum on your right.
Again please let me know by Wednesday if you are coming and how many people will join you and bring $5 per person and something to sit on.
I hope to see you all then,
KC
Picnic Sunday August 22nd